LK-OF SERIES
Full Front Service
Product Overview:
LEDlink LK-OF series is a front service outdoor LED panel. With custom configuration and ease of use, it is the perfect solution for all commercial advertising display needs.This outdoor LED panel is available in several pitch options that can meet all your needs of various applications. LK-OF series LED display is available in the following pixel pitches: P3.125, P3.91, P4.81, P5.95, P6.944, P8.33, P10.41, P4, P5.33, P6.667, P8, P10.
Features:
Product Features:
Outdoor Full Front Service -- We provide outdoor full front service LED displays. It's easy to maintain in each case.
Various Installation types -- This outdoor LED screen panel comes in a variety of installation types, including unipole type, double-column type, hanging type, wall mounted type and more. That makes it become an ideal choice for commercial advertising displays.
Waterproofness: With high waterproofness design, LK-OF series outdoor LED panel can operate efficiently in various environments.
P3.125 P3.91 P4.81 P5.95 P6.944 p8.33 P10.41,P4 P5.33 P6.667 P8 P10
---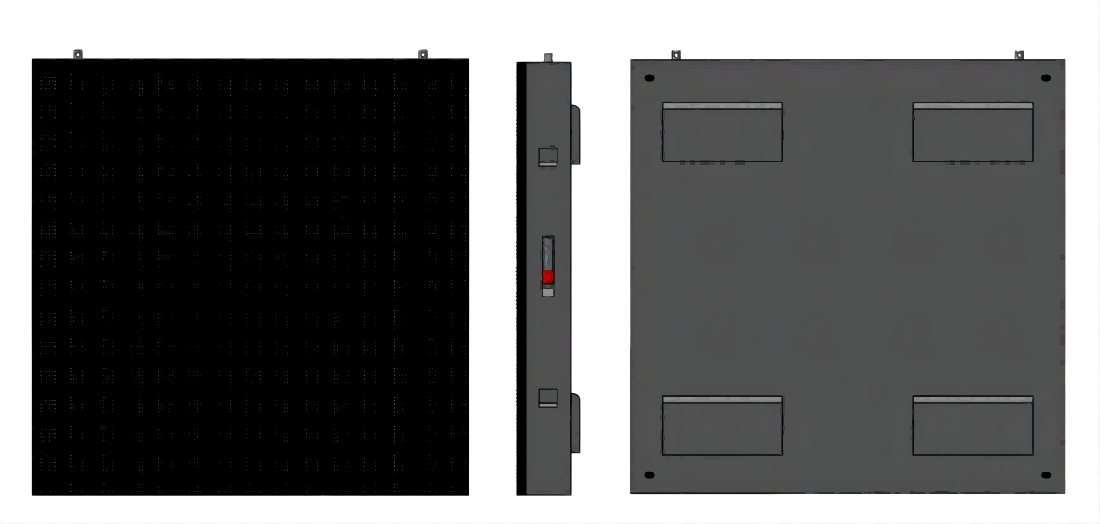 ---
Cabinet Detail
①. Locating dowel pin

②. internal hole for two cabinet

cross the lan cable.

③. handle

④. waterproof cover inside have

fan and fan vent.

⑤. Holes for connectors between

cabinet






| | |
| --- | --- |
| Module Front Service With T-type Toll | Installation type: |
---
Product Diagram(Unit:mm)
---
---
Product Specification:
We provide product specification of 250*250mm and 320*320mm outdoor LED display. If you have any questions about this outdoor LED panel, please contact us. Customized outdoor LED display is available at LEDlink as well!
---
250*250mm Product Specifications:
Items

Parameter

Pixel pitch

P3.125

P3.91

P4.81

P5.95

P6.94

P8.33

P10.41

Dot distance(mm)

3.125

3.91

4.81

5.95

6.94

8.33

10.41

LED type

SMD1415

SMD1921

SMD1921

SMD2727

SMD2727

SMD3535

SMD3535

Module size(mm)

250*250

Module resolution(dots)

80*80

64*64

52*52

42*42

36*36

30*30

24*24

Driving method(scan)

1/10

8/16

6/7

1/7

1/6

1/5

1/2

Density(dot/m²)

102400

65410

43222

28247

20762

14400

9227

Brightness(cd/m²)

≥6500

≥6500

≥5500

≥6000

≥6000

≥5000

≥6000

Working voltage (V)

AC220V/110V

Working temperature

-20℃-60℃

Cabinet material

Alu/Iron

Cabinet size(mm)

1000*1000*138

Cabinet weight(kg)

60kg

support hanging(yes/no)

no

Best viewing distance

3

4

5

6

7

8

10

Maintenance

front

front

front

front

front

front

front

Max power

consumption(W/m²)

880

800

850

700

800

800

780

Average power

consumption(W/m²)

350-400

320-360

350-400

280-320

350-380

320-350

320-380

Gray scale

16 bits

Refresh rate(Hz)

1920/3840

IP grade

Front 65/ back 54

Life span(hours)

≥100000
---
320*320mm Product Specifications:
Items

Parameter

Pixel pitch

P4

P5.33

P6.667

P8

P10

Dot distance(mm)

4mm

5.33mm

6.667mm

8mm

10mm

LED type

SMD1921

SMD1921

SMD2727

SMD2727/3535

SMD3535

Module size(mm)

320*320

Module resolution(dots)

80*80

60*60

48*48

40*400

32*32

Driving method(scan)

1/10

1/8

1/6

1/5

1/2

Density(dot/m²)

62500

35200

22477

15625

10000

Brightness(cd/m²)

≥5500

≥5000

≥5500

≥5000

≥6000

Working voltage (V)

AC220V/110V

Working temperature

-20℃-60℃

Cabinet material

Alu/Iron

Cabinet size(mm)

960*960

Cabinet weight

50kg

support hanging(yes/no)

no

Best viewing distance(m)

4

6

7

8

10

Maintenance

Front

Max power

consumption(W/m²)

850

750

800

800

850

Average power

consumption(W/m²)

350--400

320-350

320*360

320-360

350-400

Gray scale

16bits

Refresh rate(Hz)

1920/3840

IP grade

Front 65/ back 54

Life span(hours)

≥100000